photo gallery
» Author Photos » Friends » Process » The Writer » Music » Army Days
---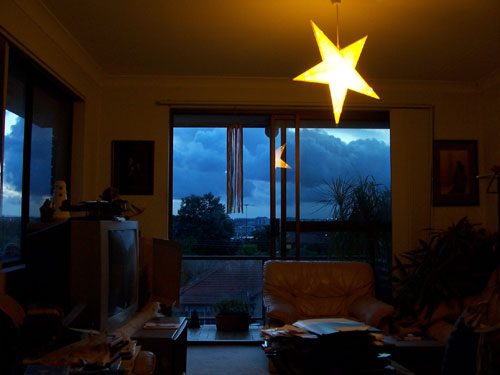 Room with a View
A star, a storm and a very big front yard. Terry's apartment in Gladesville, November 2007, showing the balcony where he wrote so many key works, including Blackwater Days, "Flashmen" and much of Rynemonn.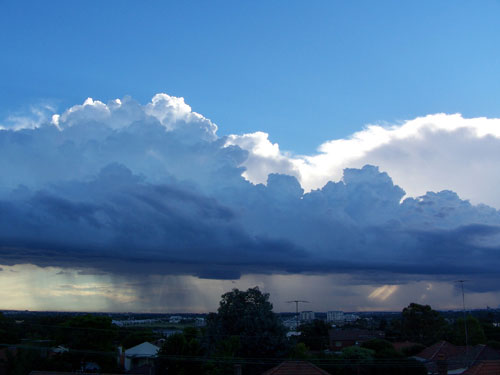 The Big Front Yard
Late afternoon summer storm, complete with rain-veils and sun-rays. View from the balcony looking south/south-west across the Parramatta River, Sydney, January 2008.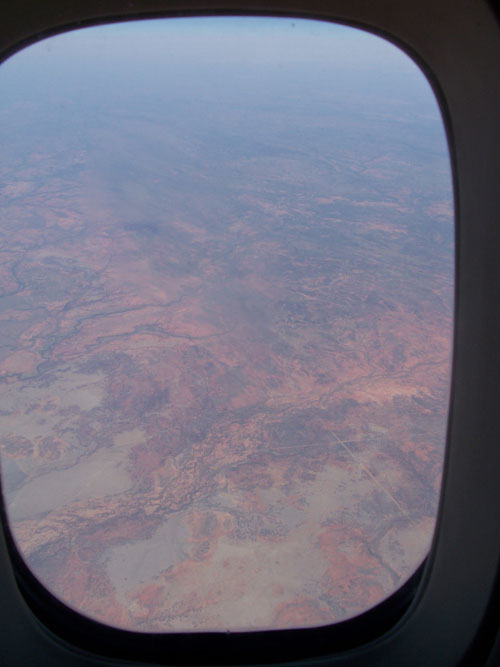 Gerias Kite View 1
Two charvolant roads meet in the desert. Photo study for Tom's flight in "Coming Down," the penultimate story in Rynemonn.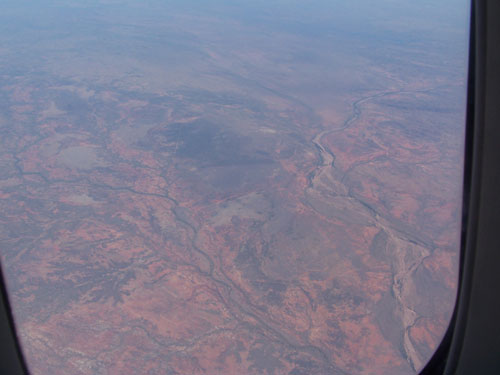 Gerias Kite View 2
Ancient water courses with a hint of a charvi road. Photo study for "Coming Down" in Rynemonn.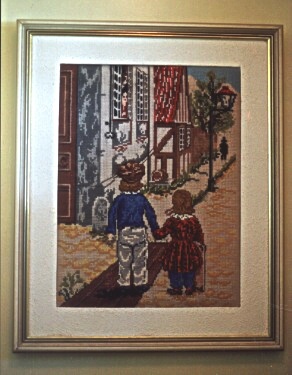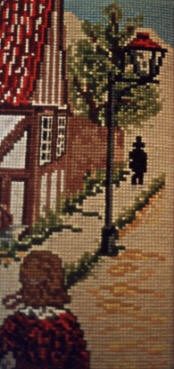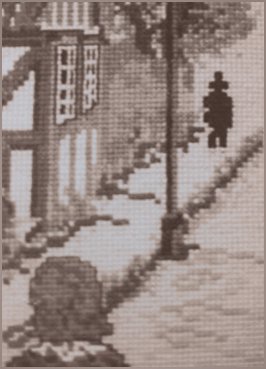 Stitch
The cross-stitch hanging in a Canberra bathroom that inspired Terry's 2001 story.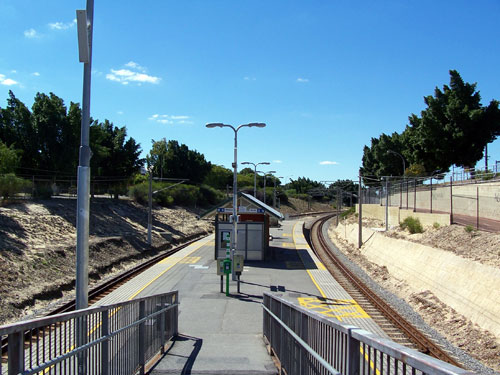 La Profonde Easter 2006
The WA railway station that helped inspire "La Profonde."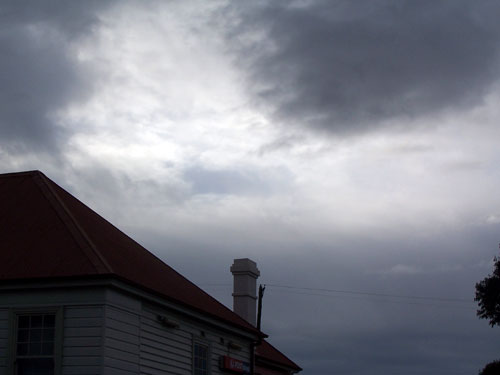 Springwood Winterlight 2006
One of many light 'samples' taken at Springwood.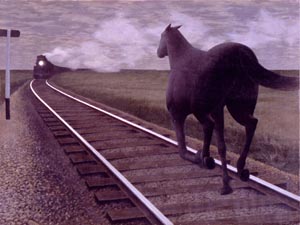 Horse and Train
Canadian artist Alex Colville's powerful 1954 painting plays a key role in "Among Thieves."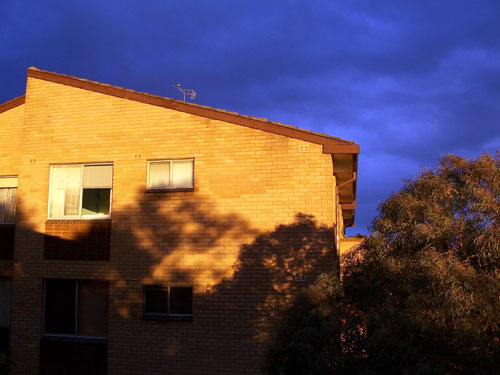 Autumn Light, May 2006
Light shots like this are invaluable.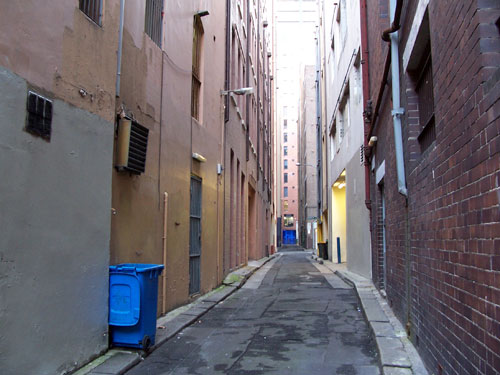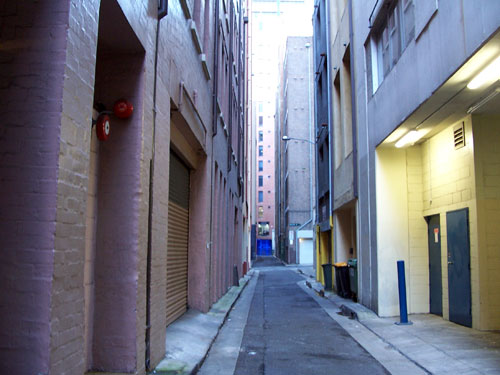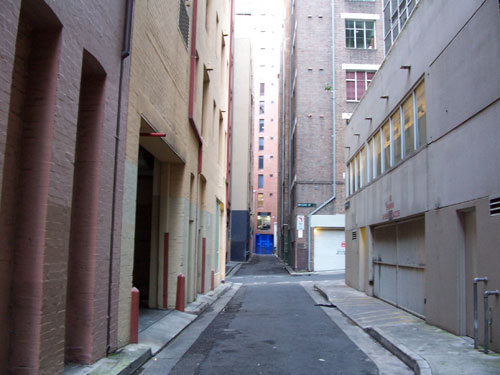 Coaches, June 2006
Location shots in Sydney's CBD for the story "Nine Coaches Waiting."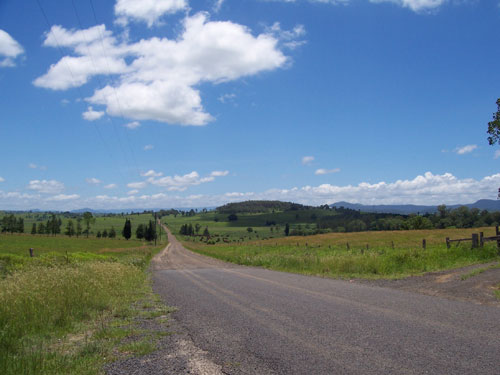 Clowns at Midnight
That forested hilltop in the centre distance is the setting for Terry's novel, Clowns at Midnight.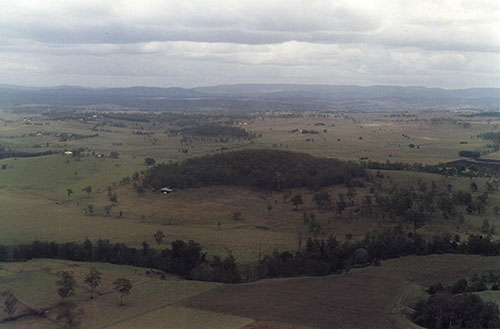 Clowns at Midnight 2
Aerial approach to the farm where Clowns at Midnight is set.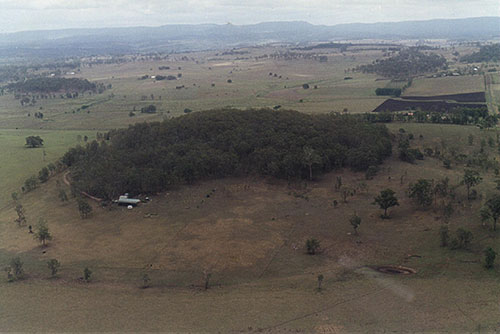 Clowns at Midnight 3
Cloudy day view of the house and that special hilltop.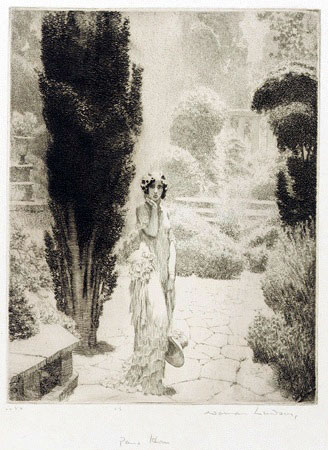 Pan's Hour
This Norman Lindsay etching from 1930 is at the centre of "Jarkman at the Othergates."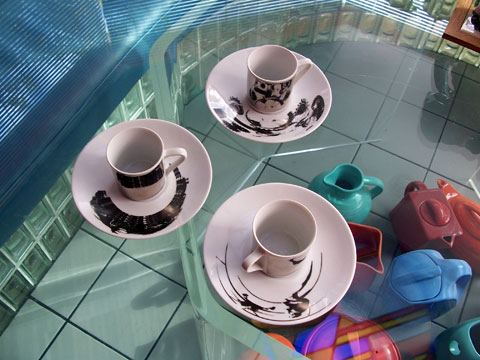 Anamorphic Cups
October 2006. No sooner does Terry start to tell Harlan about the part anamorphosis plays in his story "Jarkman at the Othergates" than Harlan tells Terry to look behind him at these three cups! Quel coincidence!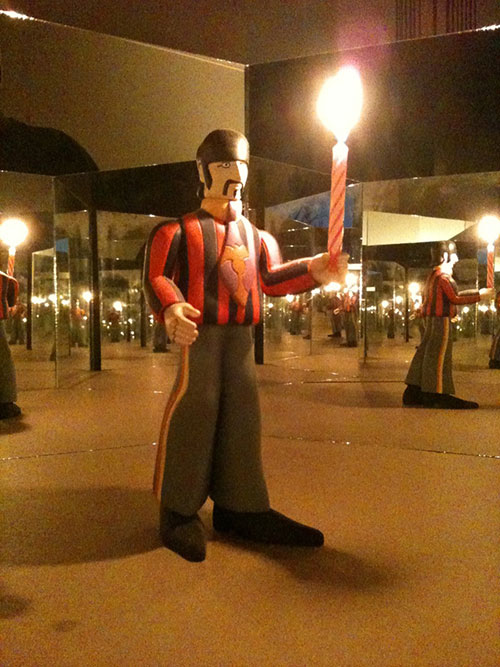 With a Little Help from my Friends
February 2002: Ringo assists in plotting the optical properties of a six-sided mirror room for "One Thing About the Night."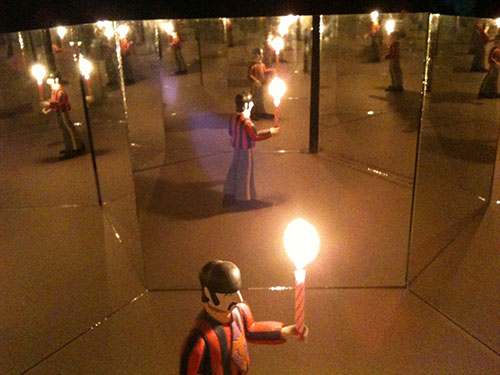 Another Room with a View
Aerial shot of the special room described in "One Thing About the Night."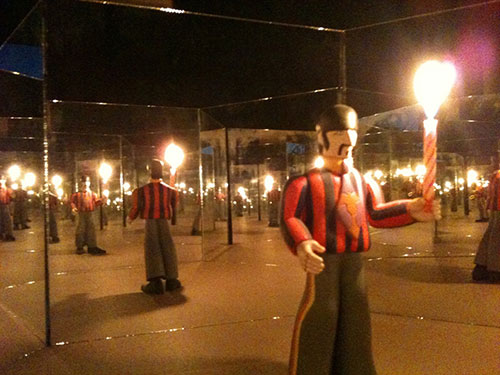 It's full of stars!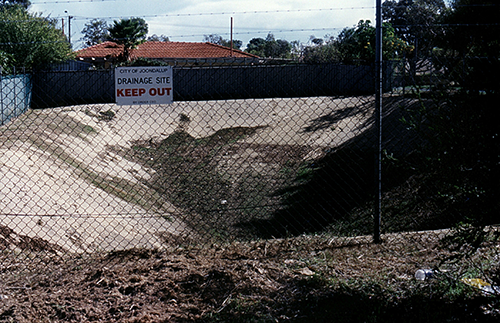 A Perth Drainage Pit, the setting for "No Nets Can Catch"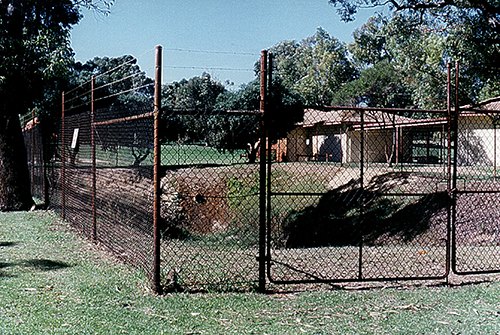 Research Shot, "No Nets Can Catch"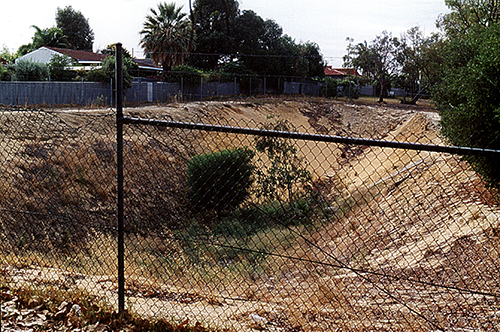 You Forget to Notice Them!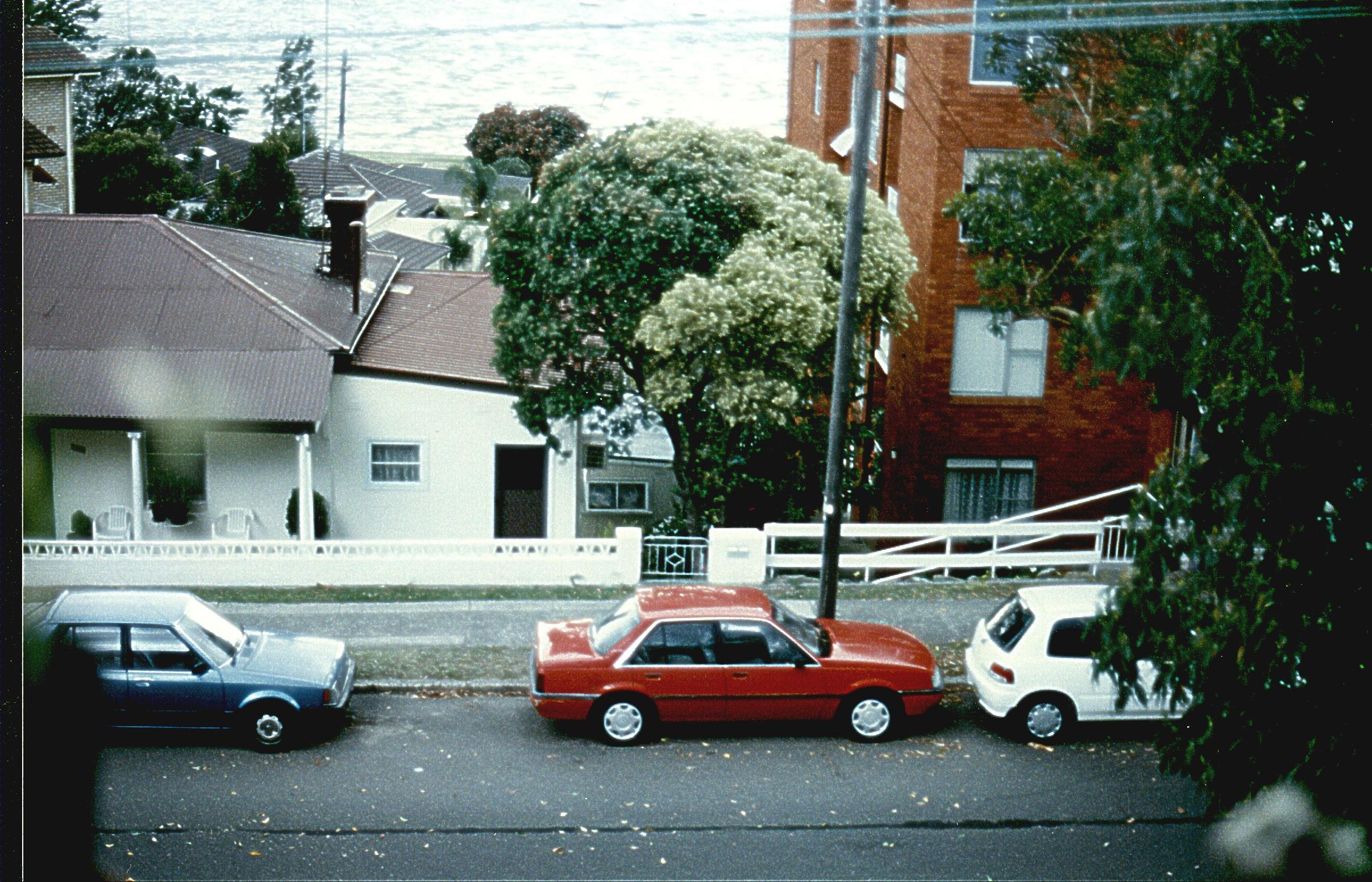 Beckoning Nightframe
The curtains moving in the double square windows (above the red car) inspired the Blackwater Days' story "Beckoning Nightframe" in 1996.